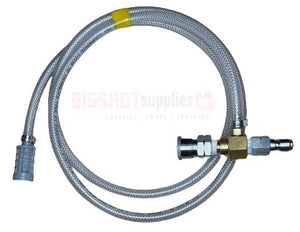 This Hi-Draw chemical injector is a great way to start off soft-washing or as an add on to your existing setup. With this product you will be able to easily apply your batch mix directly on to the surface. This is the most popular injector that we sell. 
Injectors typically give a 10:1 draw (10 parts water to 1 part detergent)
Not recommended for roof washing or dirty stucco as a stronger mix is usually needed depending on the growth in your service area.
Injector Set-Up includes:
3/8" QC Coupler SS FNPT
3/8" QD Plug SS FNPT
6 feet of 1/4" Hose
Plastic Chemical Filter
 Items we recommend to purchase at the same time are:
Injector Bypass (Fully Assembled)
Big Shooter On/Off Box
Use drop down menu to select your size based on your pressure washers GPM (Gallons Per Minute) output
Due to the aggressive corrosion nature of Chlorine, injectors can last 2 minutes or 2 years. We do not replace broken or defective injectors. Make sure to thoroughly rinse out your injector with water after each use.
SKU: INJECTOR236