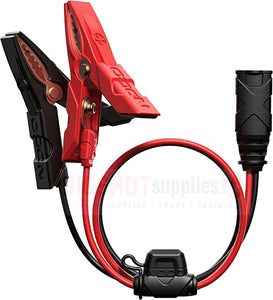 X-Connect Micro Battery Clamps with M6 Eyelets allows a battery charger to connect quickly to any battery. Replace a lost connector or add a set to a convenient location for easy charging. Remove the eyelets from the clamps to mount the connectors to the battery for a quick plug-in access point.

Easily connect and disconnect from any battery.
Improved all-new needle-nose clamp profiles ensure a secure connection.
High-output battery clamps with all-copper heavy gauge wire and molded strain reliefs.
Built-in 20A fuse protection for increased safety.
More ways to charge with plug-n-play X-Connect accessories.
Rugged, watertight connector for extreme environments.
Wide 1.25-inch clamping span to accommodate different terminal sizes.
Built-in M6 eyelet connectors for mounting purposes.
The GC001 X-Connect Battery Clamp Accessory is compatible with G750, G1100, G3500, G7200, and G4 chargers, as well as GENIUS1, GENIUS2, GENIUS2X2, GENIUS2X4, GENIUS5, and GENIUS10. It features high-output battery clamps with integrated M6 eyelet terminal connectors.
* Not compatible with NOCO Boost or Boost X UltraSafe Lithium Jump Starters. *


SKU: GC001