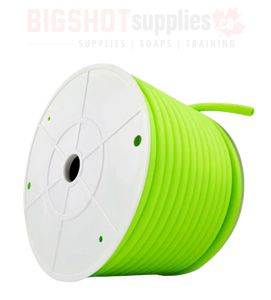 Between the FILTER and the BRUSH, we have two challenges.  
GRAVITY (5PSI head per 10FT (3.5M) which we cannot change.  The effect of cleaning at 40FT is a 'back-pressure' value of 20PSI.  
HOSE WALL RESISTANCE : The thinner the INTERNAL DIAMETER (ID) of a hose, the greater the resistance in the hose. The longer the hose, the greater the cumulative effect of the resistance. 
With this in mind, REACH-iT have developed a balanced water delivery hose for long run applications. The outer diameter is 5/8" (16MM), and we can calculate the ideal ID of hose and tube to deliver the target 1/2GPM at the RADIAL BRUSH. 
This is the science behind RADIAL HOSE - its science - and, to make it better, it is UV resistant, non-kink, and high-vis.  
To connect this hose to a DI tank and your high-flo tube on your pole, you will also need the 16mm Tiger Teeth to Gardena Connector, and the 16:10 Hi Flo Joiner
SKU: 1-007A-00669