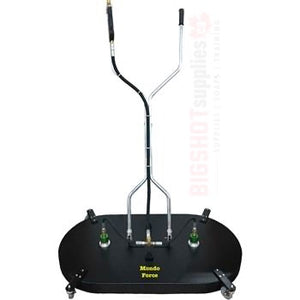 (Lead times may vary, please contact us for details)
Whisper Wash Mondo Force 49″ Surface Cleaner, the biggest of the brand line-up with 49 inch of cleaning area at once.
It weighs 46 lbs and is easy to maneuver thanks to the heavy duty aluminum cover and four wheels.
The Mondo is the newest model by Whisper Wash to handle the largest surfaces and makes sidewalk cleaning more efficient. You can pass a sidewalk once and clean it twice with the dual swivels.
The Mondo Force runs from 2000 to 4000 PSI and it eliminates any zebra striping with two of its signature twin thrust bearing swivels and balanced 2 x 2-Tip Spray Bars.
The Whisper Wash Stainless Steel Sleeves do not fit the Whisper Wash Mondo Force.
Features:
Cleans 49 inches (4 feet) at once
Rated at 6-20 GPM (Standard setup is for 8 GPM)
PSI rated from 2000 to 4000 PSI
Quick Connection
Trigger Gun Controlled
Hot & Cold Water Applications (up to 195 degrees Fahrenheit)
Saves time over cleaning by hand with a wand
Essentially does the job of 2 Whisper Wash Ground Forces at once
Lightweight Heavy Duty Aluminum cover and reinforcement.
Balanced & Machined Spray Bar
Comes standard with 2 x 2-Tip Spray Bar.
Comes standard with a 8 GPM setup (2502 MEG Nozzles on each Tip – 4 in total)
1/2″ Hose Y-splits from gun into 2 x 3/8″ Hose, one for each swivel.
Mount the Handle anyway you like for different applications (for example Sideways for Sidewalks)
Weighs 46 Lbs
Available Custom Options:
Portable Breakaway (Flip-n-Fold) Ground Force Handle for easy transport & storage
Ball Valve instead of Trigger Gun (For 10 GPM setups)
Brush Available in 3 Options: Full Brush, Front Half Brush, Back Half Brush
Contact Us prior to purchase if you want any of these options.
*This item ships everywhere in Canada excluding Yukon, NWT & Nunavut
For shipping to those regions please email or call us
*Shipping cost calculated at checkout*
*FREE Local Pickup in Langley,BC*
SKU: 4952