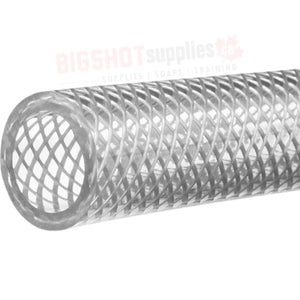 Clear Reinforced PVC K3150 Hose - FDA & NSF Approved
Our NL1270 is a popular, lightweight, non-toxic, non-marking, crystal clear hose that is suitable for air, water, glue, mild acids, chlorine, potable water, and food or beverage transfer (meets FDA, NSF, 3A and USDA requirements & is CFIA approved). It can also be used as a light vacuum line on packaging machines or as a feed line on carpet-cleaning equipment. 
Construction: Tube: Very smooth, clear PVC. Cover: Smooth, clear PVC. Reinforcement: Polyester yarn with a longitudinal orange yarn for identification.
Typical Fittings: N400-BR brass, N400-SS stainless, or N400-NY nylon barbs, N505-BR garden hose fittings, camlocks (larger sizes), brass FBL ferrules, N66 pinch clamps.
Temperature Range: -4°C (25°F) to +65°C (149°F)
SKU: NL1270-025