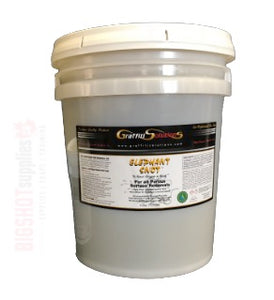 *Due to Transport Canada regulations dangerous goods shipments have additional carrier fees incorporated into shipping charges at checkout*
Elephant Snot Graffiti Remover - 5 Gallon
This product also available in 1 Gallon Bucket
ELEPHANT SNOT® Graffiti Remover is one of five "Graffiti Max" products, each custom formulated for specific removal needs. If it is a "porous" surface, then ELEPHANT SNOT Graffiti Remover is the right choice for the job. It is the workhorse for the most difficult of porous surface removal requirements - ELEPHANT SNOT penetrates deeply into concrete, cement, brick, grout, stone, virtually anything porous to dissolve and loosen all types of tags, and in many circumstances, simple water hose pressure will do the job.
Benefits:
Non-drip formula for easy application without messy runs & drips
Fast removals—clings to the surface for maximum penetration and maximum speed of removal
Low odor with minimum or no ventilation requirement for added safety, indoors or out
Water hose pressure removal option for "no pressure washer required" benefits
Non-flammable, non-combustible, minimal fire hazard formula
All temperature effective removals from freezing cold to "very hot" conditions
Recommended for removal on:
Brick, mortar, masonry, cement, concrete, stucco, terrazzo, landscaping pavers, porous tile. Natural stone surfaces such as granite, marble, sandstone, rocks, both porous/rough or polished. Also effective on: glass, ceramic, porcelain, glazed tiles, porous tile, grout.
Coverage: Each gallon covers 100 to 200 Sq. ft. depending on the porosity of the surface. Please note that this product will work slower in cold temperatures. 

General Instructions:
STIR BEFORE USE.
ELEPHANT SNOT

 

should not be used for any other purpose/removal, without thoroughly testing in an inconspicuous area for effect.
Apply by brush or roller. Water cleanup recommended after each use.
Allow to penetrate affected areas for 15-20 minutes (30-40 minutes in cold temperatures).
Use power washer with

 

15° nozzle with 1000 - 3000 PSI maximum pressure. For optimum performance and removal speed use hot water (190°F). Excellent results may be obtained with a Cold Water Power Washer with the above specifications by doubling the dwell time (30-40 minutes).
Alternative Method:

 

Allow to penetrate for 30-35 minutes, agitate with stiff brush, and remove with water hose at maximum nozzle pressure.
Repeat process if necessary.
Use SHADOW MAX® to remove any ghosting or shadow.
Clean up all equipment after each use with water.
Safety Instructions For Use:
Always wear protective eyewear and chemical resistant gloves. Can cause burns.
Protect all exposed skin areas with chemical resistant covering.
If product gets on skin, wash off immediately. If product gets in eyes, flush with water for 15 minutes.
FOR PROFESSIONAL USE ONLY
SKU: ELESNOT-5GAL