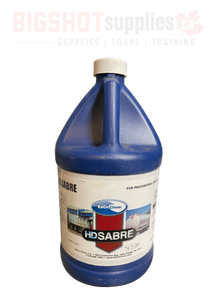 Aluminum Brightener | Complex Ion Solubilizer
HD Sabre is a non-hydrofluoric acid, biodegradable general purpose cleaner. HD Sabre is used to clean aluminum, stain-less steel truck bodies (non-coated), and the floors of food trailers. The product is safe around glass when at use dilutions.
When HD Sabre is used properly, cleaning leaves a nice shine. This product will remove many kinds of mineral, metal, and food stains or buildups. It is an excellent cleaner on fiberglass, tile, and porcelain and the metal finishes commonly found in wash areas. Over time, HD Sabre improves safety and efficiency when cleaning the floors of food trailers.
Advantages 

Contains no hydrofluoric acid
HD Sabre will not etch glass if it dries at use dilutions
Safe for people and paint
Brushless cleaning on aluminum
Leaves antioxidant coating
Reclaim friendly
SKU: HDSabre-1