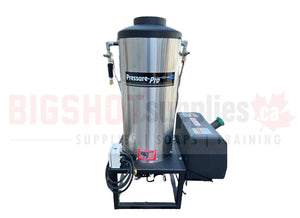 All Models Listed Are 12 Volt & Require a Group 24 Deep Cycle Marine Grade Battery - Sold Separately

Need hot water but don't have a hot water machine, the Pressure Pro Hot Box is for you.

Rugged powder coated steel frame
Super efficient schedule 80 coil
Stainless steel coil wrap
8 gallon poly diesel fuel tank w/ fuel filter
Reliable Beckett burners
Adjustable thermostat temperature control
Safety pressure relief valve
Note: 12 volt models, require 20 amp continuous power supply, Group 24 Deep Cycle Marine Grade Battery (battery not included).
Note: These models are to be used in conjunction with an existing pressure washer.
All units are completely factory assembled and tested and delivered ready to operate. 
  HBS12V40 dimensions - 28''L X 18''W X 41''H  brochure
  HBS12V80 dimensions - 32''L X 21''W X 49''H brochure
Lead times on this product vary. Contact us for details.
Restocking fee applies to any cancelled orders after initial purchase.
SKU: HBS12V40